Securing a dependable airport transfer is an often overlooked, but always extremely important, part of journey planning. And transfer companies are not always the easiest to work with.
Jayride is a website-based global marketplace for airport transfer options, designed to make the often-complicated process of travel planning that much easier.

Jayride promises consumers that it will deliver a reliable, convenient service. Customer reviews on Trustpilot are at 4.1 with an overall 'great' rating. There are more than 4,000 reviews which comment on how professional the drivers are, their high standards, punctuality and polite demeanour.
What does Jayride offer people arriving at an airport?
As a dedicated airport transfer marketplace, Jayride operates at more than 1,600 airports located in over 110 countries globally.
Since it launched, Jayride has become known as a name to trust for convenience and reliability. Its mission is to make it straightforward for people to access airport transfers easily, on time and without any hassle.
Jayride stands out among airport transfer companies.
Recognising the difficulties people often come across with booking reliable and reasonably priced airport shuttles and taxis, Jayride has become the go to company in the sector.
The company has built an extensive global network of shuttle providers, allowing them to provide airport transfers for thousands of travellers arriving and departing every day.
Regardless of traffic, luggage or waiting times, Jayride will provide a consistent, reliable, and simple transfer experience.
It is not just about the actual transfer, of course. The Jayride website and booking process is also configured to make any transfer easy to book.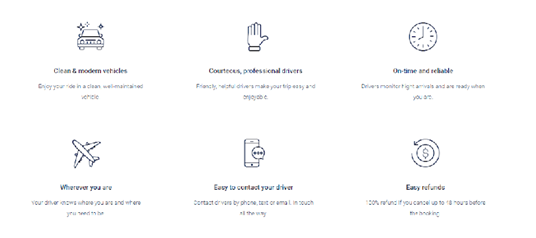 How to book your airport transfer on the Jayride website.
It is extremely easy to book your airport transfer with Jayride either as a shared shuttle or as a private transfer, you just need to visit Jayride.com. The company has made sure that its site is user-friendly and operates as a seamless platform that allows travellers to search for the best service that will suit their hotel or flight booking, choose the car, check out customer reviews for each shuttle provider, review the price and book – all in a few clicks.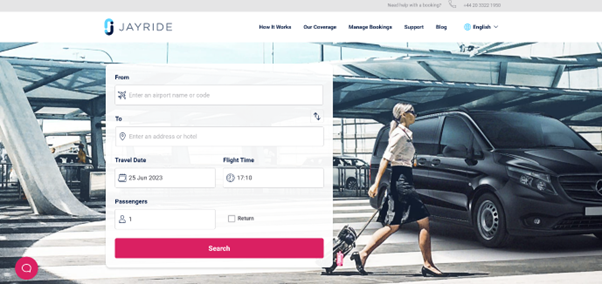 In fact, this streamlined process is one of Jayride's stand-out features, as it eliminates the stress linked with finding or booking a transfer. It is easy to contact a representative for assistance (using the contact number or via the site itself) from the customer service team, and equally easy to cancel if necessary.
Refund guarantee makes the booking process stress-free.
Jayride understands that travel plans may change, even after the initial transfer booking has been made and paid for.
Jayride guarantee a refund if the booking is cancelled at least 48 hours before the transfer is due to take place. In cases like this, the customer knows that they will get a full refund, regardless of when they initially paid for the booking.
If they choose to cancel, any traveller can then re-book and pay for a different ride if necessary, showing Jayride's commitment to customer service and the provision of reliable and flexible services.
How good is the service from Jayride?
Customers can select their driver and car from a range offered by Jayride at each pick up location.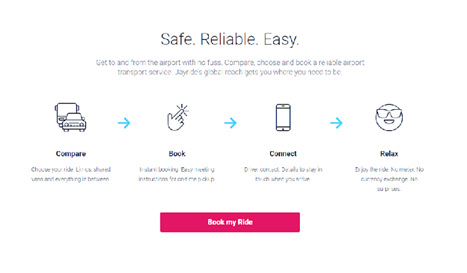 The company is keen to show that it places reliability and service quality at the highest priority and emphasises this throughout.
Jayride believes it is important for customers to receive excellent service marked by a fair price, an easy refund policy but also by the friendliness and punctuality of the driver and an overarching commitment to customer service.
A flexible service for every customer
By working with a range of transport providers, Jayride can cater to different client needs. The Jayride website allows customers to compare thousands of different options before making their decision.
This allows them to find the very best deal for their needs – whether that's private or executive cars or a shared transfer option – without spending hours on the phone trying to make a reservation with a travel provider.
Jayride reviews and testimonials consistently praise drivers for their punctuality, friendly service, and overall excellence. These positive reviews are a testament to Jayride's commitment to providing a reliable and high-quality service.
How does Jayride compare with the competition?
Jayride compares well against other major transfer service providers including Hoppa, Holiday Taxis and Talixo.
The company is particularly impressive thanks to its extensive network of providers offering a range of different options to travellers. It is this diversity of choice that makes Jayride so flexible and popular with customers in locations around the world.
The focus on customer satisfaction, along with a competitive pricing model and ease of use makes Jayride popular in the sector. Anyone who is looking for a reliable and simple transfer from hotel to airport or vice versa can depend on Jayride.
Does Jayride offer value for money?
Jayride's website makes it easy to compare the cost of different rides and services online in a short amount of time.
Furthermore, the company offers transparent and competitive pricing, which clearly lays out exactly what the customer is paying for.
The prices are competitive, particularly if you compare with other airport shuttle services. All of this goes a long way to help people incorporate the cost of dependable airport transfers into their holiday budget from the off, with no hidden costs or surprise charges.
All-inclusive prices from Jayride
As if all of that is not enough, Jayride provides an all-inclusive price for each transfer, covering taxes, tolls, airport parking, admin fees, fuel, environmental surcharges, and other standard fees. This again lends itself to customers who are budgeting for their holiday as there are no hidden extra costs or unexpected charges.
You should also look out for the regular promotions and exclusive offers from Jayride, which often give customers money off without compromising the service itself. This is part of Jayride's overall commitment to excellent customer service.
Airports and areas covered by Jayride
Even the most seasoned travellers might feel overwhelmed when landing in a foreign country. Jayride provides peace of mind with the transfer from airport to your destination already taken care of.
The company operates in more than 1,600 airports worldwide and is continually updating and expanding its network of transport service providers. This means that travellers can rely on the company's services, wherever they are flying to and from. The majority of cities around the world, from San Francisco to London are covered by Jayride's services.
Different vehicle choices to book online.
Customers can choose from a range of different vehicles, all at competitive prices. Jayride understands that people have diverse needs when it comes to the transportation they would prefer, so they offer as many options as possible.
Choose from SUVs and standard sedans to spacious vans or a luxury car, all at a fair price. Whether you are travelling on your own, with family or a large group of people, there will be a ride to suit your needs – at the money you want to pay.
Find out what customers think by reading Jayride reviews.
Checking out what other people think is a great way of understanding the quality of a service. Jayride reviews from past customers show exactly what people can expect when they book for the first time.
Currently, customers can leave their reviews for both the transfer company itself and during the booking process with Jayride.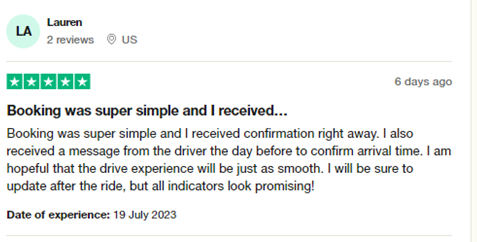 Jayride reviews – "Booking was super simple and I received confirmation right away"
What do customers like about Jayride?
Jayride reviews are at 4.1 on Trustpilot with an overall 'great' rating. More than 4,000 reviews talk about how professional the drivers are, their great standards of punctuality and their polite demeanour.
Another stand out for customers is how easy it is to book a return ride on Jayride's user-friendly website, along with the transparency over pricing and standards.
Customers regularly praise the level of customer service from Jayride, thanks to their commitment to solving problems as quickly as possible. Resolving any issues if they do arise is easy, contacting Jayride is easy with Jayride's dedicated 24-hour customer support.
Jayride consistently provides a reliable, convenient, and customer-focused airport transfer service.
Customer Support
Jayride is committed to high standards of customer support and cares about all aspects of the transfer process; answering queries on bag sizes and luggage to how to contact the driver if necessary.
The company's dedicated customer service team can be accessed at all hours of the day via phone, live chat, or email. The team is happy to help with all kinds of enquiries and issues before, during and after the transfer. There is also an extensive Help Centre section on the Jayride website.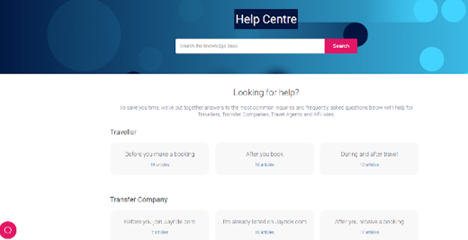 Jayride offers a convenient and reliable airport transfer service for travellers, with a user-friendly website, fantastic prices, customer service at all hours and a choice of vehicles. Ideal for the solo traveller or for groups, Jayride offers a seamless experience from beginning to end.
Tide Business Bank Account - £50 Cashback!
Simply open an account to qualify + 12 months of free transfers for Bytestart visitors!