If you're starting up a new business, one of the first things you'll need to do is open a business bank account.
If you're trading as a limited company, you must open a separate account for the company, as it is a separate legal entity from its shareholders.
If you're going to work as a sole trader (self employed), you aren't obliged to open a separate account for your business, but it will make your life much easier if you do.
The Tide business bank account – £50 cashback
We have set up a partnership with Tide, which is trusted by over 400,000 UK businesses, to provide completely free bank accounts for Bytestart visitors.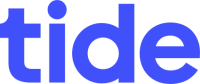 You can set up an account in minutes, and as a special welcoming bonus, Bytestart visitors will get £50 cashback just for opening an account. You will also benefit from a year of free transfers.
As you would expect, your money is FSCS-protected, there are no monthly or annual fees, and you can manage your account from your mobile phone (or desktop).
You can open a Tide account and run it concurrently with a traditional business bank account if you prefer.
Benefits provided by the Tide business bank account
Rapid signup – the application process takes minutes.
There are no monthly or annual fees.
Free use of your Mastercard (home and abroad).
Order up to 35 extra Mastercards for any team members.
Free transfers to other Tide accounts.
Free company formation if needed (whilst opening your bank account!)
Central London virtual office address (a monthly fee applies for this service)
Easy expense management via the Tide app. Makes VAT returns simple.
Tide integrates seamlessly with FreeAgent, Xero, Sage, Quickbooks and Kashflow – you can synchronise your online accounting software with your bank transactions easily.
24 hours a day support via the Tide app.
Manage your account from any device – laptop, tablet or desktop.
Open a Tide business account now!
IT Contracting clients are eligible for an exclusive offer from Tide – £50 cashback and one year of free UK transfers!*
Open an account using the code BYTESTART to claim this offer.
* See T&C's on Tide's Bytestart partner page here.
Tide Business Bank Account - £50 Cashback!
Simply open an account to qualify + 12 months of free transfers for Bytestart visitors!